PlanPlus Online is proud to announce the following for release version 2.25.0 on February 15, 2019.
Product Feature Enhancements
In the "Find My Why" tool, we added the ability to save your progress partway through the builder in order to return to finish it later. Take your time and create a why statement that really resonates with you.
Added ability to create a why statement from scratch. If you already know your WHY and just want to add it to your vision board you can skip our builder and type or paste your why statement directly into your vision board: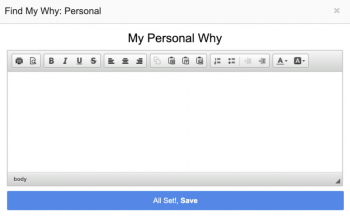 Added ability to see your goal steps from the Vision Board and My Purpose: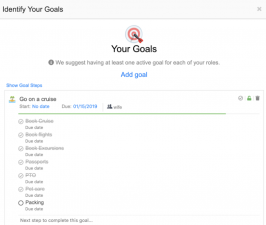 Added ability to see and manage your big rocks for each role from the Vision Board and My Purpose: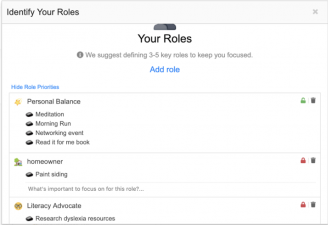 Added Private/Public flag to roles and goals so you can share the areas of your life with others that you'd like their support with and keep other areas private: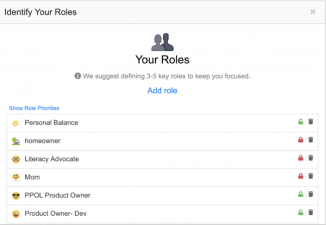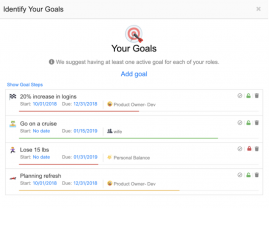 We also added role-based access to planning date so you can work with your teams more effectively: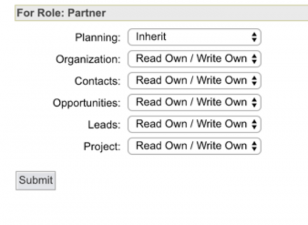 Bug Fixes
Fixed bug with values not saving and adding multiples
Fixed bug with all day multi-day private appointments
Fixed bug for scroll to hour issue
Fixed bug to make sure All day Appointment end date changes automatically if the start date changes
Fixed bug with delete and complete confirmation text on goals
Fixed bug with goal step update due date date-picker not closing
Fixed bug with deleting last remaining goal step goal complete percentages displaying "NaN"
Fixed bug in weekly planning causing daily tasks and appointments not to display
Fixed bug with role Emojis showing on priorities
Fixed bug with role with no priorities just showing spinner
Fixed bug when editing goal name, progress bar was still showing
Fixed bug when editing and saving goal name just showing spinner
Fixed bug after editing / saving goal name goal step toggle link no long worked
Fixed bug when adding new role priority and all other priorities disappeared
Fixed bug with margin on role & goal modal
Added WalkMe to 44 additional pages in the application