Stay Organized, Keep your Commitments
Stay Focused with this Chrome Extension
for PlanPlus Online.
"I am always on top of my task list now because of this" – Liz P.
Easiest Task Management Ever
Any time you open a new tab in Chrome browser, your PlanPlus Online task list will be displayed.   
Add new task from any new tab
Quickly capture any new to-do item
Mark items complete without opening PlanPlus Online app
Focus mode for helping stay distraction free.
Works with any PlanPlus Online subscription.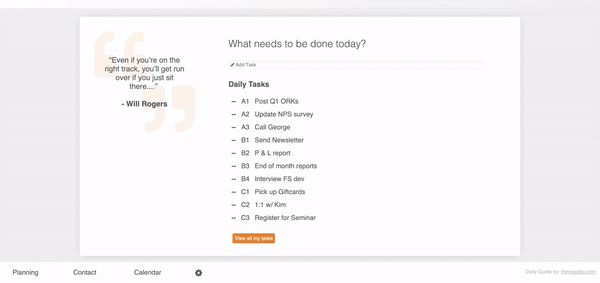 Capture To-Dos 
The first step to NOT forgetting, is to capture the things on your to-do list. Getting organized starts by getting everything out of your head and down on paper. All you have to do is answer one simple question: What needs to be done today? Each time something new pops up on your list, write it down, and just like that you'll start to feel more organized.
"The easiest task manager I've ever used. It is so easy to stay focused." – Clark S.
Prioritize Your Task List
Daily Planning with Prioritized Daily Task List
Prioritizing is where the magic happens. This step of the productivity system is all about making decisions. You've all heard "first things first" but that's sometimes easier said than done.
However, with PlanPlus Online you'll use the time tested and proven "ABC123" prioritization method to make it super easy to tell what the "first thing" actually is. Now you're ready to take action!
The excellent integration of the extension has made my life easier. – Goesta S.
Focus. On Your Most Important 
Do you know what the hardest part of planning is? Execution. It's one thing to make grand elaborate plans of what you're going to accomplish, it's a completely different to actually get tangible results. The difference between big plans and big results is focus.
To help you take meaningful action and get real results you just need a good trigger in place. Use our "Focus Mode" to eliminate distractions and remind yourself what really needs your attention.
Works with All Editions of PlanPlus Online
Seamless integration with your existing or new PlanPlusOnline account.
This FREE Chrome Extension works with all editions of PlanPlusOnline and makes it easier to manage your tasks in your Chrome browser.
See your task list every time you open a tab

Easily create new tasks

Prioritize & Complete tasks

Focus mode with Timer
Additional Task Management Features…
Additional Features available in your PlanPlusOnline Essentials or Business Account
Knowing what tasks are most important will increase your productivity. Spend less time sorting through long lists of TO-DOs or paper checklists and more time accomplishing important objectives. PlanPlus Online makes it easy to keep track of all your Tasks and prioritize them using the ABC-123 system. The Quick Prioritize Wizard provides a useful interface for drag & drop Task Management based on day and importance. Delegated Tasks are delivered via email to the recipient and all updates are tracked in your PlanPlus Online account. The recipient of a delegated task does not need to have a PlanPlus account.
Prioritized Tasks

Daily and Master Tasks

Forward Tasks to Today

Drag & Drop to Calendar

Quick Prioritize Wizard