Years ago, a 'contact manager' was known as a Rolodex—a sort of rotating file device that sat on your desk and contained specially-shaped index cards. Each card held the contact information of a person or a company.
A well-maintained Rolodex took a lot of effort and was considered essential to business success. In fact, business management guru Tom Peters once said:
"Your power is almost directly proportional to the thickness of your Rolodex, and the time you spend maintaining it. Put bluntly, the most potent people I've known have been the best networkers."
Even though they were important, Rolodex's had their limitations.
One limitation was the size of index card—which made it difficult to continually change and update information about each contact and discouraged in-depth recordkeeping.
Another limitation was the fact that each Rolodex was unique. The employee sitting at the desk next to you would have to borrow or copy your Rolodex information if they wanted to contact that customer or vendor—and you didn't know what information your coworker had or was stored at the branch office of another city.
Worse of all, a Rolodex could be misplaced, lost, or stolen—along with all the information it held!
Thankfully, the Rolodex of the past has now transformed into contact management software that enables you to easily store and find contact information—yet contact management is more essential than ever to your organization's success.
Contact Management with PlanPlus Online
At the heart of its CRM platform, PlanPlus Online offers a robust, contact-centric database that provides a fully-integrated approach to tracking all the information and communication activities linked to contacts—and that's not all, it also provides the following advantages:
Accessible from anywhere—even on mobile devices
Contact information and notes are available to coworkers
Offers access control if you need to limit access to certain records
Ready to use, searchable database
Sales tracking
Emails integration
Scheduling of appointments and meetings
Notes and conversation management
Customizable fields
Drip marketing
Import/export utility
In fact, you may want to use PlanPlus Online to segment your contacts in different ways to create lists by:
ZIP codes for geographic segmentation
Active or inactive customers
Open opportunities
Referrals
Vendors
Monthly birthday lists
Watch this contact management overview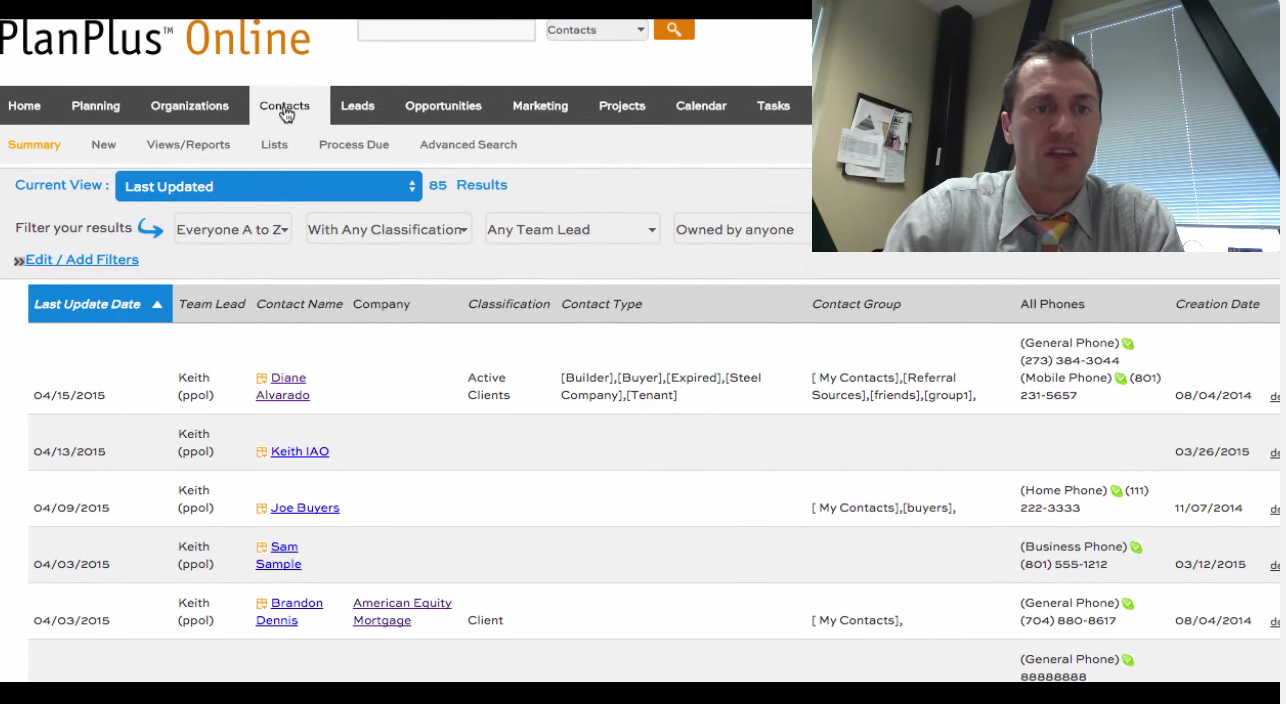 as Keith Norris, PlanPlus Online's CEO, demonstrates the many possibilities offered by PlanPlus Online's contact management feature.
It's time to get rid of your Rolodex and discover all of the reasons you should be using PlanPlus Online. If you'd like a free, no-obligation demonstration of what PlanPlus Online's contact management feature can do for you, call 801-438-3460.