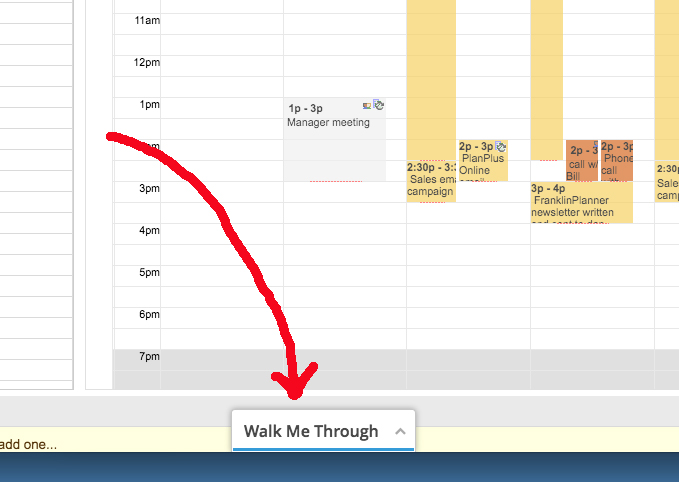 Have you ever wanted an instant guide at your side to help you learn new and productive features of your software at the same time you're using it? (Then, have you ever wished that guide would go away during the parts you already know?)
We've got the convenient, instant guide you need–there when you need help, goes away when you don't!
Located at the bottom of your screen is the new "Walk Me Through" guide. Go ahead, click on it…
How can we help you? The Help tab…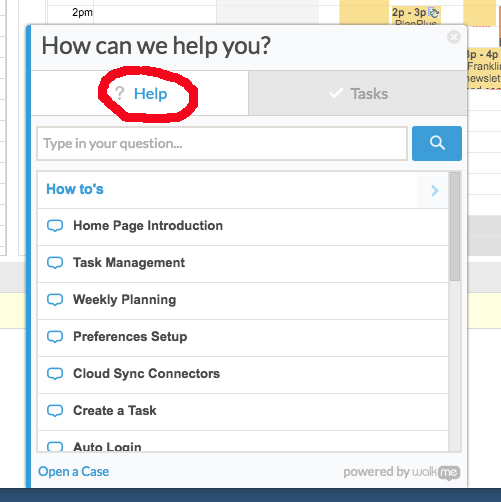 Up slides a window that asks this important question: "How can we help you?"
You can scroll through the index or type in your question. Walk Me Through offers help and prompts on common PlanPlus Online questions such as:
Home Page Introduction

Task Management

Weekly Planning

Preferences Setup

Cloud Sync Connectors

Create a Task

Auto Login

Appointment Details

Sales Pipeline Form

Sales Pipeline Sample

Journal Report

Auto Login

Lead Duplicate Check

PlanPlus Mobile App iOS

Contact Management

Webform Builder

Sync Help
And offers a link to Open a Case if you are experiencing a software problem.
Walk Me Through offers guided tours, PDF information sheets, and informational videos to help you quickly become a PlanPlus Online expert!
How can we help you? The Tasks tab…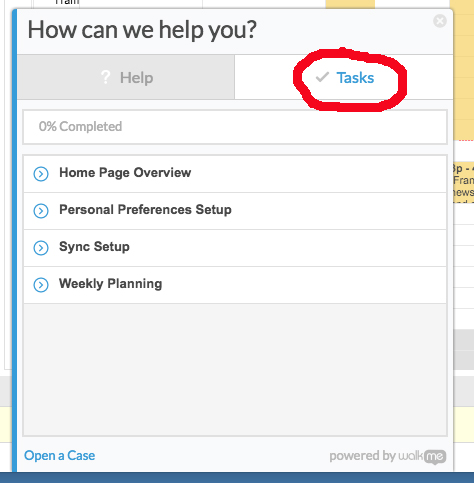 If you're new to PlanPlus Online, open the Walk Me Through window and choose the "Tasks" tab. Tasks offers you a place to start and coaching on each step of the way. Subjects include:
Home Page Overview

Personal Preferences Setup

Sync Setup

Weekly Planning
Walk Me Through also tracks your progress through the training so that you can always start where you left off!
Culture of Productivity
Walk Me Through is another example of PlanPlus Online's commitment to helping organizations achieve a Culture of Productivity. Just like a great coach, Walk Me Through is always ready to help and then gets out of the way!